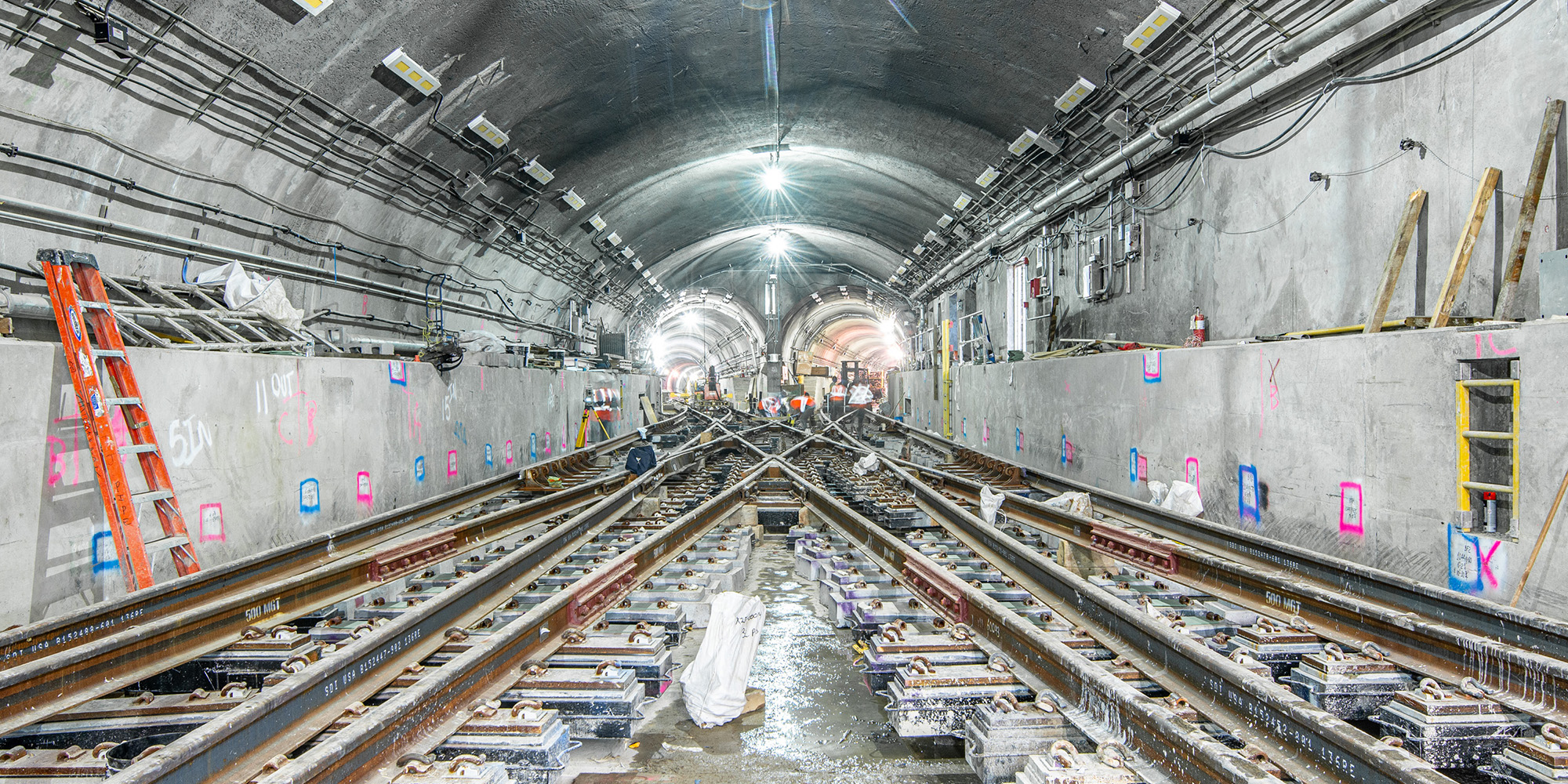 East Side Access CM007
Grand Central Terminal Caverns
Project Details
ROLE
Electrical Contractor
CONTRACT AMOUNT
$87 Million
OWNER
NYC Metropolitan Transportation Authority
LOCATION
New York, NY
ARCHITECT
GEC (PB/STV/Parsons)
SIZE
12 Miles
COMPLETION
2020
Project Description
This contract was for the fabrication and construction of the permanent structural concrete lining of the previously-excavated Grand Central Terminal area to accommodate the Long Island Railroad trains comprising the East Side Access Project. Included was all track work and third rail from the terminal to the Queens portal as well as the installation of escalators, elevators, fire escape stairs and the architectural, structural, mechanical, and electrical equipment and systems for same. The scope of work included structural precast fit-out of two 1,000-foot existing caverns with 830 precast beams, 844 precast panels, 694 precast walls, and 370 precast platforms. Track work consisted of 52,000 track feet of RTB Tieblock construction, 14,000 track feet of Direct Fixation construction, 64,000 linear feet of Contact Rail installation, 32 turnouts, 52 switches, double cross-over construction, 35,000 cubic yards of track bed concrete, traction power, and signal conduit installation.
The architectural station fit-out was with stainless steel wall panels; modular metal ceilings; Terrazzo, ceramic and stone flooring; glass enclosures; and stair and elevator fit-outs. Also included was 34,000 cubic yards of structural concrete, pneumatically applied concrete, demolition, excavation/backfill, site restoration and tunnel rehab, MEP, facility power, lighting, SCADA, fire detection, communication, control systems, and security.
Five Star Electric provided the installation of two 13.8kV substations to support the distribution system powering various systems such as lighting, power, communication equipment, fire alarm, security, public address systems, SCADA systems, and electric signage as well as the signal and traction power fit-outs for track. This project included over 700,000 feet of empty raceways for systems conduit, over 110,000 feet of two-hour fire rated MC cables, over 6,000 lighting fixtures, and 12 miles of fit-outs for track.
Photo Credits: Bernstein Associates